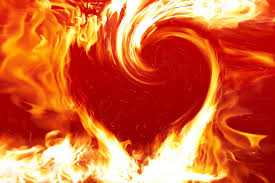 By Zac Poonen
In Revelation 3:14-22, the Lord told the church in Laodicea write: The Amen, the faithful and true Witness, the Beginning of the creation of God, says this: "I know your deeds, that you are neither cold nor hot; I would that you were cold or hot. So, because you are lukewarm, and neither hot nor cold, I will spit you out of My mouth."
Here is a church that was not on fire for God. They were just plain "lukewarm" (Rev 3:16). They were dead right in their doctrines – but they were both dead and right! They were morally respectable – and spiritually dead!
The Lord wants our hearts to be on fire at all times – a flame with a fervent love for Him and for other believers. "Fire shall be kept burning continually on the altar; it is not to go out", was the old-covenant Law (Lev. 6:13). Symbolically we see here what God expects the normal state of the true disciple of Jesus to be. Anything less than this is sub-standard. When the burning bush was aflame with the fire of the Lord, no insects or germs could survive within it. And when our hearts are aflame with the fire of the Spirit, no unloving attitudes can survive therein either.
This is one way by which we can test whether we are hot, cold or lukewarm: To be "hot" is to love others fervently. To be "cold" is to be bitter and unforgiving towards others. To be "lukewarm" is to have neither bitterness nor love towards others. When a believer says, "I have nothing in my heart against anyone", he is lukewarm. Did Jesus say, "All men will know that you are my disciples when you have nothing in your hearts against each other"? No. The absence of evil attitudes towards each other is NOT the identifying mark of the disciples of Jesus (cf. John. 13:35). We must have something in our hearts. We must have fervent love for all our fellow-believers. Love is a positive virtue and not just the absence of evil.
To cast out the spirit of bitterness from our heart and then to leave it cleansed and empty is the surest way to be lukewarm and to finally end up in a worse state than at the beginning (Luke. 11:24-26). The world says, "Something is better than nothing". If so, then one would think that it is better to be lukewarm than cold. But that is not what the Lord says. He says, "I would that you were cold" (Rev. 3:15). He would rather see us totally worldly than half-hearted. The lukewarm, compromising Christian does a lot more damage to the cause of Christ on earth than the worldly unbeliever. The unbeliever does not take the name of Christ, and so his worldliness cannot be a hindrance to the gospel. But a compromising, half- hearted Christian takes the name of Christ and disgraces that Name among the heathen by his worldliness.
The cold, worldly unbeliever is also far more likely to come to an awareness of his spiritual need than the lukewarm, self-righteous Pharisee (See Matt.21:31). It is for these reasons that the Lord says that He would rather see us cold than lukewarm. In practical terms this means that if you have no longing to be free from the love of money or from anger and impure thoughts (to take just three areas of sin), it would be better if you remained an unbeliever than one claiming to be a disciple of Jesus. There is more hope for you if you are cold than if you are lukewarm. This is amazing, but true.