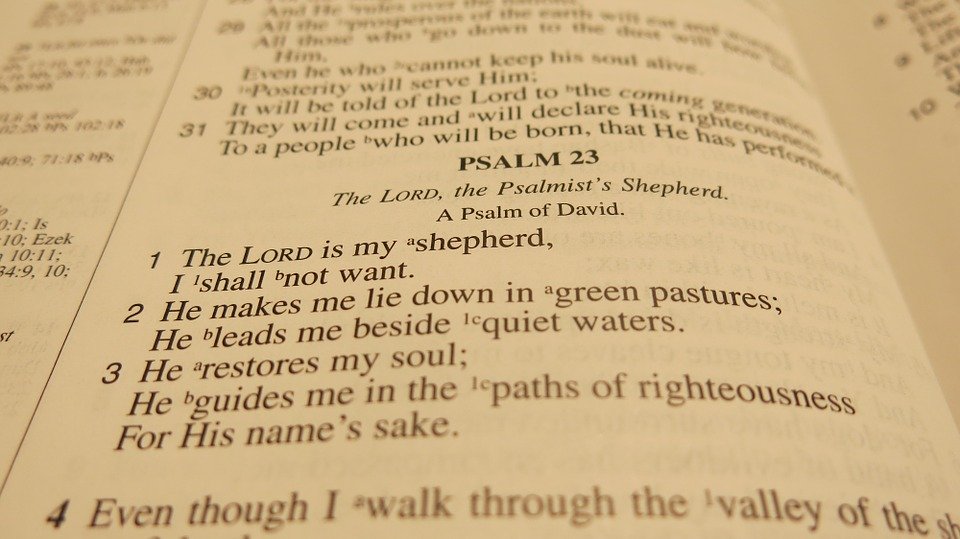 By Zac Poonen
Psalm 23 is the Shepherd psalm. When the Lord is our Shepherd, we will lack nothing (v.1). HE makes us to lie down. HE leads us. HE restores us. HE guides us. Very often we think about what we have to do for the Lord. But here the emphasis is on what the Lord does for us. We can be effective for God only as we allow Him first to do a work in us. We fear no evil, because HE is with us. HE prepares a table for us and HE anoints our head with oil. Then our cups begin to run over and goodness and mercy follow us everywhere until we reach our eternal home.
Psalm 34 describes the Lord as the Helper of the righteous. David wrote this psalm when the Lord delivered him from certain death, as he pretended to be mad in front of King Abimelech. So he says, "I will bless the Lord at all times. This poor man cried, and the Lord heard him. Taste and see that the Lord is good." (verses 1, 6, 8). David recognised that "the angel of the Lord surrounds those who fear Him and delivers them"(verse 7) . He also saw that "the eyes of the Lord are upon the righteous and His ears are always open to their cry", and that "the Lord is near the brokenhearted" (verses 15, 18). David goes on to say from his experience that "the afflictions of the righteous are many" (verse 19). Don't ever imagine that if you are righteous you won't have problems. You will have more problems. "But the Lord will deliver you out of ALL of them" (verse 19). Then there is yet another Messianic prophecy: "He keeps all His bones; not one of them will be broken" (verse 20) – which was fulfilled on the cross.
In Psalm 66, David praises God for bringing him into a place of blessedness. But this was through many trials. In verses 10 to 12, we read that God took David through sickness, fire and water and human oppression before bringing him to a place of spiritual prosperity. The word translated "place of abundance" here is used in only one other place in Scripture – in Psalm 23:5 – where it is translated as "overflows". So the way to have an overflowing life of blessing is through trial and suffering.Verse 18 is another important verse : "If I regard sin in my heart, the Lord will not hear me". Prayer is like having a phone conversation with God. But if we have unconfessed sin in our hearts, then God will not even pick up the phone to listen to our prayers.
Psalms 91 proclaims the blessedness and security of the one who lives in "the secret place of the Most High"For us, that secret place is the wounded side of Jesus. Living in "the shadow of the Almighty" implies that God is going in front of us, and we are walking in His shadow (v.1). The safest place in the whole world is the centre of God's perfect will. The Lord promises to deliver us from both our enemies – Satan (the trapper) and sin (deadly disease) (v.3). He will save us from obvious sins (daytime dangers) and from subtle, deceptive sins (night-time dangers) (v.5,6). Even if 11,000 Christians around us do not believe in a victorious life, He will keep us from falling into sin (v.7). We may have to face many afflictions, but in them all, no evil will ever befall us (v.10). He has appointed angels to care for us, as long as we walk in His will. Satan (the lion and the serpent) will always be crushed under our feet (v.13). God will answer our prayers and set us on high and give us length of life so that we do not die until we have finished our appointed task (v.15,16).